DANIEL LINHARES's Mugen Creations
Check out DANIEL LINHARES's videos here
DANIEL LINHARES is a Brazilian M.U.G.E.N character and AI creator. He is mostly known for his Marvel Vs/custom style Gameplay characters-in particular Hulk and Thanos.
He has been active in the mugen scene since atleast 2017
What makes this creator unique is that he has not only converted characters in this style which were never previously
converted to the MVC style, but he has also added his own unique spin to the characters by the means of additonal cut-in graphics and movesets
related tot he characters and their source franchises (such as samurai showdown & Red Earth with various cameos and Visual effects relating to the two games).
Most, if not all of his characters also feature extremely decent and competitive AI with juggles, chain combos and more.
The only negative downsides to his characters which prevent them from gaining a spot on the Forbes list, are the fact that they can generate some bugs
in Mugen 1.1 when used in conjunction with the Mugen 1.1 add004 system/ These bugs include freezing characters and sound issues but only seem to occur with certain
samurai showdown franchise characters - hopefully something Daniel adresses in future because many of his unique characters are otherwise potentially some of the best conversions in all of Mugen.
Download All DANIEL LINHARES's official work here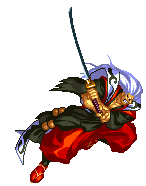 If you like his characters, please support him via his official youtube channel